Dermal Fillers Specialist in Catonsville MD
Dermal filler injections are a non-invasive aesthetic procedure. Dermal fillers plump up wrinkles, straighten lines, and enhance the volume of your face. Dermal fillers are aesthetic procedures that often provide immediate benefits that might last months or years. Consult with our healthcare professionals,

Dr. Nasser Nasseri, M.D.

, and his

team

at Noor Laser Center, and talk about the risks and benefits of dermal fillers, as well as which dermal filler is best for you. For more information,

contact us

today or

book an appointment

online. We are located at

700 Geipe Road Suite 100 Catonsville, MD 21228

.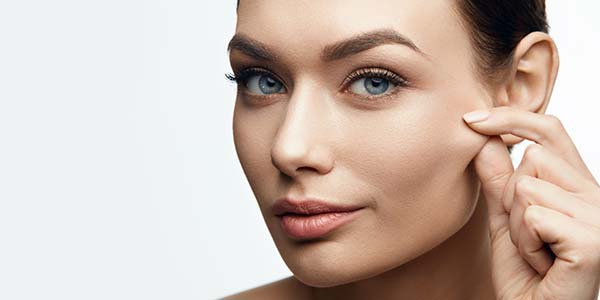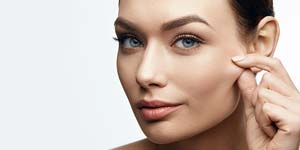 Table of Contents:
What are dermal fillers?
What is the difference between Botox and dermal fillers?
Why are dermal fillers used?
What are the types of dermal fillers?
What are dermal fillers?

Dermal fillers are just one of the numerous modern cosmetic procedures. People turn to them as a form of anti-aging, as these injectable fillers give the skin a smoother, more youthful appearance. Areas of the body, most commonly the face and head area, experiencing wrinkles, lines, and a decrease in volume can be combated with the help of the procedure. Fillers are mainly composed of Hyaluronic acid, Calcium hydroxylapatite, and Poly-L-lactic acid, but there are a wide variety of fillers that may incorporate other substances, which can make some more costly than others. Across the board, though, the chemical substances are completely biocompatible, meaning that they are safe when the procedure is performed properly. It is also highly important to be aware of the fact that dermal fillers get broken down over time due to the body's metabolism. This means that dermal fillers are not a permanent solution, but rather a temporary one that lasts anywhere from 6-12 months and will require touch-up procedures to continue to see results. For many people, dermal fillers are a very solid option for a cosmetic procedure, but for others, not so much. Speaking with a specialist in the area will help determine if dermal fillers are the right choice for you.
What is the difference between Botox and dermal fillers?

Both dermal fillers and Botox are very well-known procedures within the field of cosmetics. While they are similar due to the fact that they are both injection-based, Botox and dermal fillers are indeed different cosmetic procedures and should be looked at for their unique properties when coming to a decision between the two. One of the main differences between the two is that dermal fillers are injected right under the skin, while Botox is injected into muscles to essentially freeze them. The types of wrinkles treated may also be different. For example, muscle contraction-induced wrinkles will likely be better addressed by Botox, whereas fillers can address areas that simply lack volume or help fill deep wrinkles. It is also important to highlight the timeframe for each procedure– dermal fillers will typically last about 6-12 months, while Botox will last anywhere from 4-6 months. This does slightly play into the price of each as fillers are the more expensive option for a one-time visit, however, Botox will require more frequent touch-up procedures. Being aware of the main differences between the two can help you come to your decision between the two, and it is encouraged to ask a specialist for their thoughts prior to committing to one.
Why are dermal fillers used?

Dermal fillers serve the purpose of a cosmetic procedure that can help address a variety of common aesthetic areas. As many people know, fillers are often used to combat an aging appearance by seemingly undoing wrinkles and lines, while making the skin appear healthier. In addition to this, they help give a fuller look to areas that have become hollow or have seemingly lost volume. The substances within dermal fillers are safe when the procedure is properly performed, and break down after showing results for half a year to a year, another great reason why dermal fillers are the cosmetic option pursued by many people. The focus on aesthetics in general is very important for many, but it is certainly not everyone's personal focus. Putting it in a more concise manner, people pursue cosmetic procedures such as dermal fillers since they want to achieve a certain aesthetic in a safe manner that can last.
What are the types of dermal fillers?

Most commonly, Hyaluronic acid, Calcium hydroxylapatite, or Poly-lactic acid (PLLA) are the dermal fillers used. Hyaluronic acid dermal fillers are versatile and can be used for volume enhancement, wrinkle reduction, as well as lip and cheek enhancement. Calcium hydroxylapatite is often used to address facial volume and is known to provide a very natural appearance. Poly-L-lactic acid-based dermal fillers boost collagen production and generally work gradually compared to the others as they use collagen production to fill in lines and enhance lips. There are many options when considering dermal fillers and much to do in terms of customization, however, the ones discussed are generally regarded as the most common. Asking a specialist about more options is a great way to obtain more helpful information.

If you're looking for non-surgical face rejuvenation using dermal fillers, our specialists at Noor Laser Center can help. For more information, contact us or schedule an appointment online. We are located at 700 Geipe Road, Suite 100, Catonsville, MD 21228. We serve clients from Catonsville MD, Ellicott City MD, Columbia MD, Clarksville MD, Fulton MD, Baltimore MD, Pikesville MD, Woodbine MD, and surrounding areas.